San Francisco 49ers tight end George Kittle joined the Bussin' with the Boys podcast this week, joined by Buffalo Bills quarterback Josh Allen. Both are in Tennessee for Kittle's Tight End University. Allen is among several quarterbacks on hand to throw footballs to the large contingent of tight ends.
During the lengthy conversation on the Barstool Sports podcast, the topic of fanbases came up. Allen has played in front of Bills Mafia his entire career, while Kittle has been among The Faithful. The two groups create very different atmospheres heading into game days, leading Kittle to reflect on his college playing days at Iowa.
Kittle sounded in awe of Buffalo fans, who are eager to show their support of the Bills at every opportunity, even in blistering cold weather.
"I get chills thinking about it," Allen commented. "… It's pretty special."
Kittle asked Allen about the days leading to a game and the atmosphere in the area.
"There's an energy," Allen responded.
The 49ers tight end loved hearing that, prompting him to reflect on his NFL experience playing in Santa Clara.
"Santa Clara, we'll have fans and stuff outside the games, when you leave practices, and stuff like that," Kittle shared. "When we're in San Francisco, for sure, there's a buzz in the city of San Francisco. But it's a little different where we live. We're in the heart of Silicon Valley. A lot of people don't really care about the Niners. They don't care about football. A lot of people don't even know what it is out there."
The 49ers played on the southern border of San Francisco when the team's home venue was Candlestick Park. The Niners moved to Levi's Stadium in 2014.
The 49ers drafted Kittle in 2017, so he has never experienced playing games closer to the heart of San Francisco. However, at Iowa, he loved the region's passion for Hawkeyes football.
"Going into a big game, night game, starting Wednesday, you would just see Iowa football jerseys up and down the streets, and everyone is just drinking in the streets, ready to roll. Then, when you pull into the stadium, like Saturday afternoon—everybody's there. There's more people outside than there are inside. I don't know. That's how I think football should be. But that's how I imagine Buffalo is."
Allen added Sundays in Buffalo are for the Bills, indicating that the atmosphere in the area is similar to what the 49ers tight end described as his collegiate experience.
"That's awesome," Kittle responded.
Nobody's perfect. Did you find a mistake in this article?
Report it.
Facebook Comments
More San Francisco 49ers News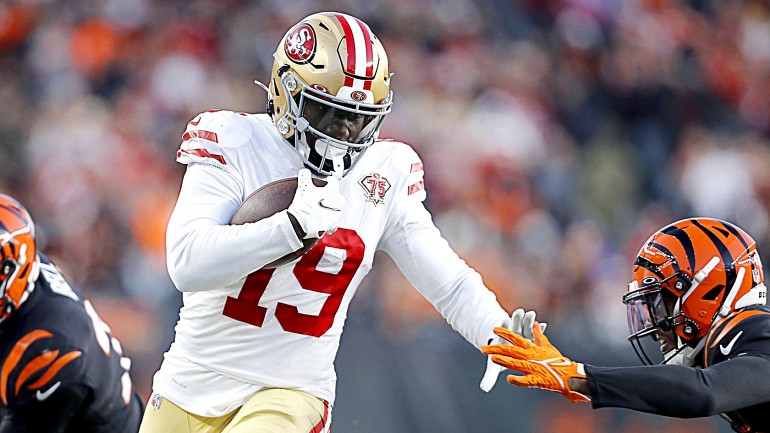 George Kittle wishes the 49ers didn't delay Deebo Samuel extension
Earlier this week, Bleacher Report listed what it believes is the one offseason regret for each NFL team. For the San Francisco 49ers, it was the team not locking wide receiver Deebo Samuel to a contract extension earlier—before the receiver market exploded earlier in the offseason and Samuel requested to be traded. One 49ers star wishes his team had taken care of Samuel earlier, avoiding the offseason drama altogether. Samuel reported to the team's mandatory minicamp earlier this month but didn't participate in the on-field work. "Hindsight is 20-20, right?" tight end George Kittle said this week on the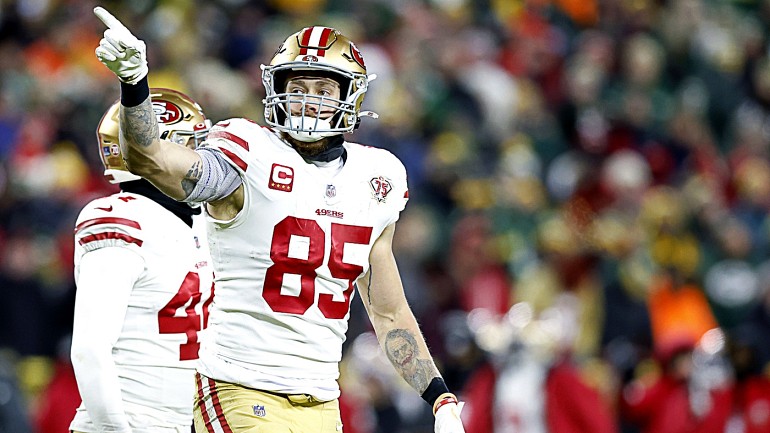 49ers' George Kittle shows off 'Kittle Light' beer at TEU
San Francisco 49ers tight end George Kittle is an established NFL star. Now, he has a beer named after him. Bud Light is an official sponsor of Kittle's Tight End University, which kicked off this week. The beer company announced its commitment to the position as it becomes the "Official Beer Sponsor of Tight Ends." The deal was announced at the start of Tight End University, the three-day gathering of NFL tight ends in Tennessee. The event is in its second year. Kittle shared the sponsorship news on Instagram, showing off a custom can of "Kittle
49ers TE George Kittle joins Kevin Hart on Cold as Balls, requests two bye weeks
George Kittle joined comedian Kevin Hart on his LOL Network show, Cold as Balls (h/t TheSFNiners). The San Francisco 49ers tight end discussed football, his desire to win a Super Bowl, his love of Harry Potter, his cosplay of choice if he went to San Diego Comic-Con, and more while submerged in an ice bath. Kittle also revealed his desire for the NFL to add a second bye week for NFL teams. "Seventeen games is a lot," Kittle told Hart. "It's a lot of games with one bye, whether it's Week 4 or the bye is Week 11. I'm advocating for two byes. If you can get that to happen, that would be cool." Hart assured the tight end that it was a done deal. Kittle also cleverly avoided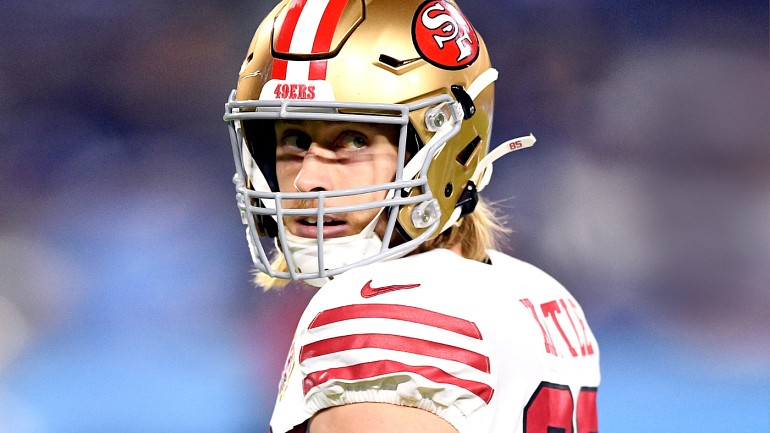 49ers TE George Kittle's one goal: 'Win a Super Bowl'
San Francisco 49ers tight end George Kittle made headlines last week, telling Kevin Hart on the LOL Network show, Cold as Balls, that he would love to see the NFL add a second bye week. "Seventeen games is a lot," Kittle said. "It's a lot of games with one bye, whether it's Week 4 or the bye is Week 11. I'm advocating for two byes." Kittle is preparing to enter his sixth NFL season. San Francisco made the tight end a fifth-round draft pick in 2017. While he has come close to winning a championship, he has yet to hoist the Vince Lombardi Trophy. Kittle came extremely close during the 2019 season. However, he watched his Niners collapse in the
.